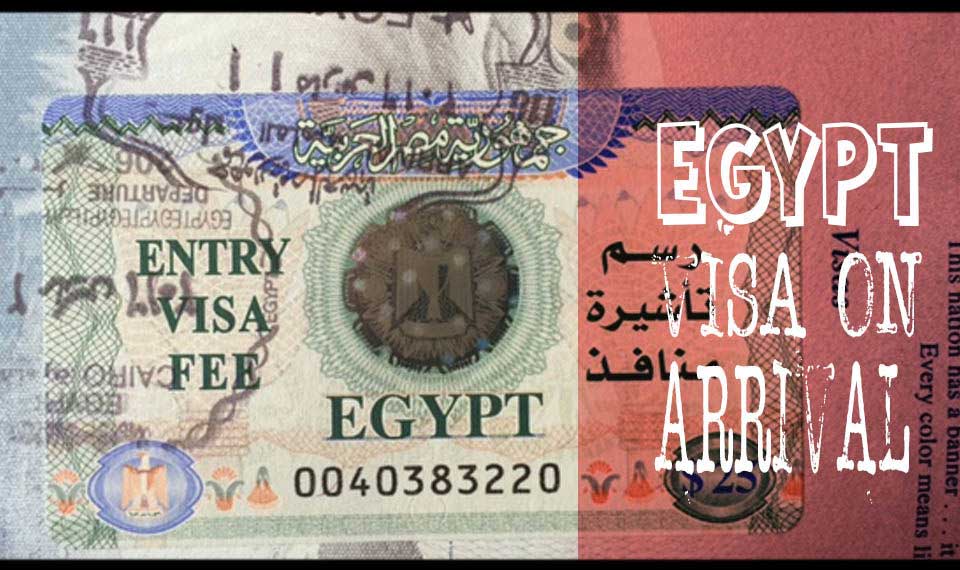 Egypt Entry Visa Requirements
All visitors to Egypt need to obtain a visa to enter the country unless they are from a visa-exempt country. There are different types of entry visa to Egypt: the visa on arrival, and the Egypt e-Visa.
The Egypt visa on arrival has been available for a long time. It is possible to obtain one at the Egyptian border. Eligible citizens queue, apply for, process, and pay for the visa on arrival.
Travelers can obtain an Egypt tourist visa on arrival at immigration kiosks at any of the airport terminals. It is necessary to queue, fill out the form, and purchase the visa sticker to present, along with your passport at the immigration desks.
There are a couple of Egypt visa on arrival requirements: travelers must be from one of the eligible countries and have a passport with six months' validity remaining.
You cannot pay the visa fee with a credit or debit card so it is necessary to take cash with you. It's also best to take the exact amount to save trouble.
Visa on Arrival
According to the Egyptian Consulate General in the United Kingdom, citizens of the following countries can obtain a visa upon arrival at any of the Egyptian ports of entry:
All European Union citizens

Australia

Canada

Georgia

Japan

South Korea

Macedonia

New Zealand

Norway

Russia

Serbia

Ukraine

United States
Citizens of the Following 7 Countries and Territories Have Full Visa-free upon arrival:
Bahrain

Hong Kong

Kuwait

Lebanon - *They must land only at Borg El Arab Airport,

or Hurghada Airport

or Sharm El-Sheikh Airport if arriving on a charter flight

Macao

Oman

Saudi Arabia

United Arab Emirates

Malaysia

(14 days)
SCHENGEN UK OR USA VISA
Any passenger holding any of these visas valid can get visa on arrival
GCC residents:
The GCC countries are United Arab Emirates, Saudi Arabia, Qatar, Oman, Kuwait and Bahrain.
Passengers with a valid residence permit issued by a GCC Member State can obtain a visa on arrival (25 USD ) valid for a maximum stay of 30 days.

The residence permit must be valid for a minimum of 6 months from the arrival date.
Egypt Electronic Visa:
The Egyptian e-Visa will be granted to all those who apply online and correctly meet the e-Visa requirements.

Prior to the implementation of the Egypt e-Visa, foreign nationals from the following countries could obtain a visa-on-arrival at any port of entry in Egypt.

Now it is possible to obtain an approved e-Visa before departing to your destination in Egypt. The Egyptian e-Visa application process is simple and can be easily completed before departure. This will facilitate entry into the country once you arrive.
Below is a list of countries eligible for Egypt e-Visa:
| | | | | |
| --- | --- | --- | --- | --- |
| Albania | Australia | Austria | Belgium | Bulgaria |
| Canada | Croatia | Cyprus | Czech Republic | Denmark |
| Estonia | Finland | France | Germany | Greece |
| Hungary | Iceland | Ireland | Italy | Japan |
| Latvia | Lithuania | Luxembourg | Macedonia | Malta |
| Moldova | Monaco | Montenegro | Netherlands | North Korea |
| Norway | Poland | Portugal | Romania | Russia |
| Serbia | Slovakia | Slovenia | South Korea | Spain |
| Sweden | Switzerland | the United Kingdom | United States | Ukraine |

1. Tourism Visa: Issued for single or multiple entries to persons whose nationalities require visas to enter Egypt. The type of visa you must have is defined by the Arab Republic of Egypt and Egyptian visa regulations and relates to the purpose of your travel.
| | |
| --- | --- |
| Visa type | Visa fees |
| Single entry visa (Tourism) | 25$ |
| Multiple entries visa (Tourism) | 60$ |
Granting Visa-free under certain conditions for:
Algeria – aged 14 years and below.

Libya – female nationals or residents of Butnan District on Sundays and Mondays.

Jordan – those holding a normal 5-year passport, a provided passport does not contain a stamp from the Jordanian Registration Office on the reverse side cover of the passport (on page 60)

Morocco – aged 14 years and below

Sudan – aged 50 years and above or 16 years and below or being a female national

South Sudan – aged 50 years and above or 16 years and below or being a female national

Tunisia – aged 14 years and below

Yemen – 50 years and above or 16 years and below or traveling for medical reasons

China –if you provide a return ticket, an upper-class hotel reservation and an equivalent of USD 2000
For more information contact us : [email protected]
You can browse our top offer for Egypt Tours here: Egypt Tours
For luxury tours check: Egypt Luxury Tours
For Egypt tour packages offers check: Egypt Tour Packages
For Honeymoon packages check: Egypt Honeymoon Packages